Well the Olympics started yesterday - the great bastion of athletic achievements worldwide. What makes the Olympics so special is not the fact that it represents the greatest excellence in sports but rather that it is the quadrannual (I have no idea how to spell that word) aspect of the Games. You see, sporting events of great magnitudes happen all the time. The Olympics only come along every 4 years, so you have this awesome amount of testosterone and emotions flowing around in the Vancouver area. So my question to you is this, how do the athletes deal with all these emotions and pheromones floating around? Sex would be the natural answer, but statistically speaking, most sexual attraction is between a man and a woman. But the Olympics are events of a unisex nature - men taking on men and women battling women. So this naturally leads me to believe that homoeroticism must be running rampant in the Olympics.
What is homoeroticism you say, well wikipedia describes it as the erotic attraction between members of the same sex, most especially as it is depicted or manifested in the visual arts and literature. It can also be found in performative forms. For my purposes, I'm going to take sports as the performing arts. And I'm now going to tackle the question of which sports at the Olympics are the most homoerotic in nature.
Men's figure skating
Why not start with the obvious right? Well, I'll be honest, I wanted to be politically correct by saying, what is the most homoerotic sport, but really I simply wanted to say, what is the gayest sport? No matter how you define gay, you will most certainly agree that this is gay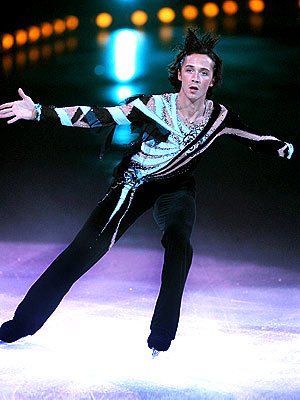 But gay is good!!! Johnny Weir is one of the most flamboyant athletes on the US Olympic squad, but he is equally one of the most athletic. If you think homoeroticism is all a bunch of captain limp wrists, you got another thing coming. Homoerotic art is marked by shirtless athletic men's performing feats of superhuman strength and ability. Men's figure skating is simply the present day equivalent to Victorian era art - man's performance unleashed in the most gayest of mediums!
2 Man Luge
Ok, if a guy asked you to lie on top of him, you might begin to question his sexuality. Now if he asked you to lie on top of him while he was wearing a thin layer of lycra spandex, you would really question his sexuality. And finally, if said question was asked of you coupled with the fact that you would both be rocketing down a tunnel all the while trying to minimize friction and ending in a climatic ascent meant to bring you a prize, well then you would have yourself one hell of a homoerotic endeavor.
Women's golf
Ok, well I thought I would throw a shout out to the lesbians out there, who were feeling the homoerotic neglect, but then I realized two things : 1) golf is not yet in the Olympics and 2) it is not in the Winter Olympics, although one could probably go golfing right now in Vancouver. So unfortunately, we'll have to leave this carpet munching party for another blog.
Men's hockey
What's that you say, hockey is the bastion of male heterosexuality? Well, I think not. Let me describe hockey another way. A bunch of men strap on protection, then proceed to go rough housing for a period of time, then come back and all take naked showers together while they recount the beauty of the activity in which they just undertook. Hmm, sounds pretty homoerotic to me.
Bobsleigh
Whether it be 2 man or 4 man bobsleigh, packing men into a really tight spot and - much like luge - rocketing down a tunnel while packed in....well, that is pretty analogous to anal sex when you ask me. Enough said. Oh yeah, the lycra spandex "protection" doesn't help the cause any either. Nor the fact that Germany is really good at all this sledding events...I mean, come on, Germany is the torchbearer for homoeroticism!
Curling
I have to be honest, I tried coming up with a sex analogy for sliding heaving stones and having them crash into one another, all the while trying to hit the button, well, it just wasn't coming. Oh wait, button is pretty metaphorical, right? Hmm, maybe not. Ok, curling is pretty heterosexual.
Ski jumping
They just look pretty gay.