PLAY IN GAME

Mongolia vs.
Petra
To visit either of these world-renowned areas, you will most likely need to ride a smelly animal. In the case of Mongolia, it will most likely be a donkey – if you pay enough, probably a lame horse they describe to you as being a stallion. In Petra's case, it will be a camel. Much like your means of conveyance, it is unfortunate that one of these two destinations must lose out so early. But thus is life in the Asia/Oceania bracket. Petra's existence on the Seven Wonders of the Modern World ensures that it gets to dance.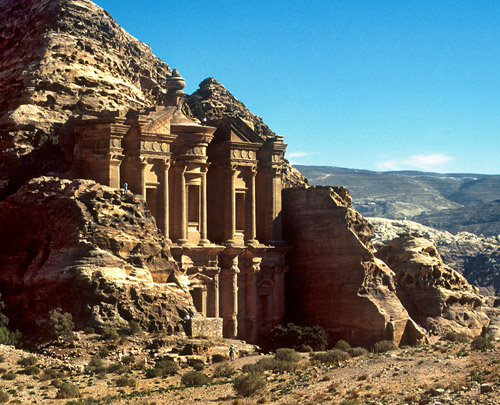 ROUND 1

(1) The Great Wall of China
vs. (16) Petra
One you can see from space, the other you will see only once you are right in front of it. Both are UNESCO World Heritage sites, but then again, so is Ottawa's Rideau River, so that may not be worth so much. Both have been around since before Jesus. But, as we learn each and every year, a #16 seed never defeats a #1 seed, and I'll be darned if this blog will stray from convention! Plus the Communists are probably reading my blog for compliance, so I better watch out (note to the Chairman – this is why I put Tibet as a #15 seed even though they pleaded with me to be a higher rank).
(2) Taj Mahal vs.
(15) Potala Palace, Lhasa, Tibet
A mausoleum comes up against an abandoned home. Essentially, this is what it comes down to. Were the Dalai Lama still at home, this would be a no contest. Despite the Chinese turning it into a museum, the mystery of a 1400-year-old palace on top of the world beats out some musty old death chamber, constructed by a love struck Mughal, any day. Folks, let the upsets begin.
(3) Istanbul
vs. (14) South Island, New Zealand
Those who have visited the city with many names all say the same thing: most beautiful city on earth. Istanbul/Constantinople/Byzantium, call it what you will, this city has been ravaged, pillaged and plundered, but one visit to the Hagia Sophia will have all those bungee-jumping Kiwis conceding defeat.
(4) Jerusalem vs.
(13) Borobudur, Indonesia
The world's holiest city comes up against a mere Indonesian home of Buddhist pilgrimage. This should be a no-brainer right? Well, call me a bit self-centered, but I'm not quite sure Jerusalem is my thing; especially nowadays. Were I able to stroll around in an Obama-approved bullet proof limousine, the results may be a bit different, but I'm going to give this one to the little pot bellied one.
(5) Dubai
vs. (12) Great Barrier Reef
I'm pretty sure they are building a replica of the Great Barrier Reef in Dubai? Oh no, I'm sorry, they were just building a replica of the world! And what's that, you can buy a country? Wow, my ears are ringing because money talks pretty loud around this place. Sorry Aussies, your poor climate record is simply eroding your own tourism destinations – if you can't even take care of it, well, I'll just go somewhere that they appreciate my money (once I get enough to stay in the janitor's close of the Burj Al Arab that is).
(6) Angkor Wat
vs. (13) Ayers Rock
A Hindu turned Buddhist temple deep in the Cambodian jungle comes up against a sacred rock down under. Hmmm. Doesn't seem like much of a match-up doesn't it? In what is turning in to a runaway performance for eastern religions, Angkor Wat trumps Uluru.
(7) Beijing
vs. (10) Kyoto
As the only place in Asia that I have actually visited, I can state first hand how beautiful and mystical the ancient Japanese capital is. Having said that, Beijing presents us with a worldly city, the centre of the world's new power, and the host of the recent Olympics. Although Buddhism has been running rampant all over this bracket, Kyoto suffers as the heavy hand of the Communist Politico and the mystery of the Forbidden city. Besides, I had to set up a China vs. Tibet match up for the 2nd round!
(8) Nepal
vs. Thailand
Well, you have the world's tallest mountains and the magic of Kathmandu against the hedonism of Thai beach culture and the magic of Thai spirituality (not to mention the food). In a triple overtime game, Nepal pulls one out on a last second buzzer beater. Thailand is simply crushed, as it had been previously seen as a strong favorite coming into the tournament. Ultimately, it was Nepal's big centre - Chomolungma, as he is known by Tibetans - that was the difference maker. When interviewed after the game, Thai tourism minister had this to say about Cholungma's record breaking performance: "How are we suppose to rebound when they have a 8,895m centre?" How indeed.